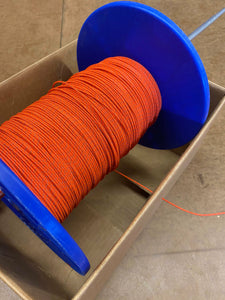 The best lightweight cord we can find. Custom braided for SlingFin. This stuff rocks. Stiffer than our OEM nylon cord, it doesn't tangle as easily and knots are easier to loosen.
1.5mm diameter
Low-stretch, even when wet
Dyneema™️ core, nylon sheath
Reflective marker
Compatible with both small and large clam cleat tensioners
>200lb tensile strength
All orders are shipped in continuous lengths. For example, if you want a 10 foot section, input "10" as your item quantity.
If you want pre-cut guylines with tensioners already installed, you can find those here.
Great cord at a great price
I never expected that my exhaustive Google search for great quality cord at a great price would lead me to SlingFin, but it did! The price is about half of what the other big name places are charging. It is a little different than what came standard on my SplitWing in that it is orange in color and is reflective. The standard cord is red and is not reflective, so I think this cord is even better. The 1.5mm thickness is ideal for weight savings, yet it still has enough thickness to hold knots firmly. It is nice to know that I have a dependable supplier of cord when I need it.